Linux Conference 2000 Exhibition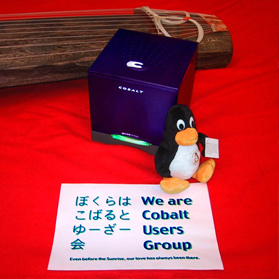 1st December, 2000 in Kyoto JAPAN, Linux Conference 2000 Fall had been held. We, Cobalt Users Group hosted a special booth. We also had been exhibited a booth to 1998 and 1999 Linux Conference too.
---
At the day, We introduced Qube 3, Users Group special <!a href="/goods/silverq.html">Silver Qube 3 strap, <!a href="/goods/sticker2.html">Sticker, <!a href="/goods/ugtshirts2-j.html">T shirts, US Cobalt inc. Qube 3 T shirts and just 1U size UPS of GSEE. (and more!)

I hope you enjoy photos of that day.
---
The booth
We made Japanese classic decorated booth because Kyoto city is one of the best of historic and scenic city in Japan. (The bench with red carpet is the one of typical style of the tea ceremony in Japan.)
Our staff was playing the classic instrument "KOTO" for BGM of the hall.
the scene of making...

Just Finished.


We showed Qube 3, Users Group goods, Cobalt inc. goods, and more... Photocopy of US Cobalt company's buildings, staffs and a stock. (An certificate but of course it is only the Xerox copy of the sample.)

Special silver Qube 3 strap is good accessory for OBI. (OBI is the belt of Japanese KIMONO.)
Guest visitors
Bruce Momjian and Tatsuo Ishii of PostgreSQL.
Bruce asked some questions about Qube product eagerly. "Is there any differences between normal PC?", "I place PC on the kitchen, is it good alternative?", etc. Users Group answered "It has no video interface" then he asked "hack?" :-) Yes, I answered you can.

Yukihiro Matsumoto of Ruby object oriented script language system.

Larry Wall of Perl.
Users Group asked him "Would you know about this instrument?", he said "Well.. I did not played yet". :-) He is gentleman.
Photo shooting time in the booth of O'REILLY.

Toru Miyahara, with Yukihiro Matsumoto.
KIMONO staff
KOTO and KIMONO
KOTO is one of traditional Japanese instrument. It has 13 strings. KIMONO is the native dress of Japan. Red one has middle sized sleeves. The green one has long hanging sleeves, we call it FURISODE. Both of them are formal dress for young lady.

At SGI booth. AIBO was walking.
AIBO is robot dog pet developed by SONY. Why AIBO was there?
And more...
Our staff.

The closing party.
Users Group staffs, NTT DoCoMo guys (they donated books of Qube2, thanks) and Alphatech people (they donated silver Qube 3 strap, thanks a lot!).
---
This page is administrated by Cobalt Users Group. (usersgroup@cobaltqube.org) All rights are reserved.