US Cobalt visiting report, Winter 2002.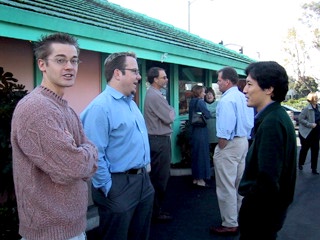 At the delicious Mexican restrant, with Pat and Peder.
Jan. 2002, Yasuda and Tachibana visited to US Cobalt office. It was 3rd times visiting for Yasuda and the first time for Tachibana. We could meet again with Vivek, Gordon, Patrick, Glenn, Richard, Greg, Adrian, Will and more. And we have met with some new staffs.
It was the first time visiting for Yasuda after the buying by Sun. But we are so happy because so many staffs remain and push the development of the new product. Looks so nice.
---
Cobalt Headquarter
Cobalt Headquarter building. It is the same building before the Sun.
But now, it has the number of Sun buildings. #33 for the left building (it is the 3rd building for Cobalt company) and #32 for the right building (it is the 4th for Cobalt).

The gate. This is also the entrance gate of the right building.

The entrance logo and the plate had been changed to Sun.

RaQ HOTEL

We have presented Titan stamp to Vivek.

Vivek, Richard, Greg, Peder, Pat, Gordon, Will, Glenn, Adrian and more. Thanks all!
---
We had been crused other places.
Think Outside
We interviewed to John Tang who is one of the key designer of Cobalt early products. We asked a lot of the design works for the first Qube.
Now he is working for STOW AWAY folding keyboard for Palm at the company "Think Outside".