Lunch with Vivek in Tokyo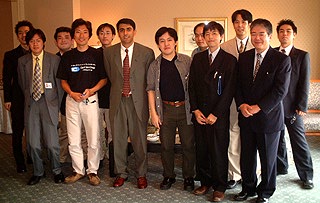 26th September 2001, We met Mr. Vivek Mehra who is the one of founder of Cobalt and Vice President and General Manager of Sun Cobalt Server Appliances.
We cannot miss him but there is no time to make something for fun. Therefore we have just met him and took a lunch.
We fully enjoyed tasteful dished and discussion. Thanks Vivek and see you!

---

We got a signature of Vivek because we will make HANKO, that is traditional stamp of Japan.
The place is Four Seasons Hotel in Tokyo. So superior gorgeous Hotel it is. It is also the place where hosted Cobalt Japan Startup party in 1998.
---
Sun Cobalt Training 2001 Seminar
It was the day for the seminar "Sun Cobalt Training 2001". The program was follows;
Introduction - Sun Cobalt abstract, the recent topics -
Hiroshi Kitajima, The president of Cobalt Jpaan
Sun Cobalt concept & future overview
Vivek Mehra, Vice President & General Manager Sun Cobalt Server Appliances
Case study #1. Fire Wall+
Kenichi Mizutani, the president of Netman Inc.
Case study #2. Mail Shooter
Shinichi Saitoh, solution division, Hokkaido NEC software Inc.
FCTO (Field Configure to Order)
Masaki Tsuyuki, technical engineering division, Cobalt Japan.

Please enjoy photos.

It looks like the operation center of NASA.

Kitajima

Tsuyuki
---
This page is administrated by Cobalt Users Group. (usersgroup@cobaltqube.org) All rights are reserved.