BlueQuartz Sticker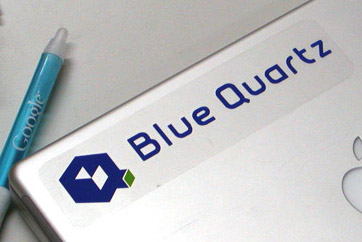 Here is the stikcer which was developed by Mr. Yamamoto of Appleple Inc.. It was a kind of hand-made sticker that use the cutting sheet parts. You construct them by yourself. Totaly 20 or arround stickers distributed at the 21th meeting in Tokyo.
---
Initially, stickers distributed as three seprate parts. White, blue and green sheets are.
The final assembling enjoyment is reserved for you.
Remove the extra area surrounding the stings first.
And pick up the green small diamond then place it on the best point.
How difficult but important work...
I did it! Paste it on the best outstanding point. What a nice sticker, thanks Yamamoto-san!
---
Feb. 2004
---
This page is administrated by Cobalt Users Group. (usersgroup@cobaltqube.org) All rights are reserved.