Cobalt Users Conference 2002/Summer in Nagano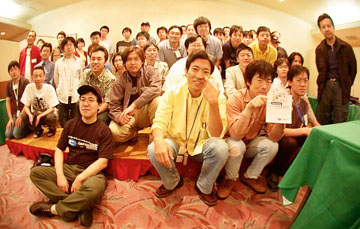 From 5th to 7th of June 2002, we have hosted Cobalt Users Conference event in Nagano city of Japan. It is the 2nd conference from the last year.
I want to say thank you for a lot of support and help of members of users group. We could end it with the great successfully closing.
---
From chief of organizer
As same as the last year, we could host Cobalt Users Conference in Nagano city of Japan. So, over 60 members gathered totally, it was memorable event. I must say thank you and I also fully enjoyed the event itself.
We could organize a great program more than the last year. This year had 3 days (whole 48 hours) and the early half part (24 hours) was programmed for beginners. The famous support member of mailing list had been standing as lecturers. The last half part was dedicated to professional developers, then we called it as 'deep course'. Lecturers were all real commercial developers and discussed about very pragmatic and technical topics in detail.
It is our proud that we could all about seminars and lectures in voluntary. There is no words to explain my thanks enough. How nice!
Let us gather again, somewhere on the net, or somewhere on the planet.

September 2002
Yutaka Yasuda, Cobalt Users Group.
Concept
This conference is focusing on developers of application software specialized for Cobalt and support engineers of ISP who has Cobalt systems. They can make progress by themselves through our seminar programs, demonstrations and the face to face discussion of this conference.
Yes, it is hard to make much time for self-learning for busy engineer. And it is also hard to exchange an opinion with other companiy's guy. Therefore we, Cobalt Users Group choose Nagano city and made 2 nights and 3 days course for this conference. Because Nagano has pretty long distance from Tokyo and Osaka where is a center of their business. Any boss of them cannot say "Hey, we're in trouble, get back now".
Please get a lot of knowledge, experience and friends in this chance.
[ Full text (in Japanese)]
Program
Keynote Speech (common for both of 2 courses)

Beginner course

In this course, the main target is RaQ3, beginners of user and newbies of system administrator. Includes dayly operation, management, security setup and more. All lectureres are core member of our users group.

RaQ3/4 Trouble shoot example / disk exchange know how. (Mr. Takeda, Urbannet)
RaQ3 inside; The system data structure of PostgreSQL. (Mr. Shibuya, Alpha)
How to install PHP into RaQ3 / RaQ4 in stable. (Mr. Shibuya, Alpha)
Let us install MySQL into RaQ3 (Mr. Itoh, Studio bookmark)
RaQ 550 function workthrough. (Mr. Yachita, Mubit)
Hardware accelerated SSL gateway by RaQ 550 (Mr. Yachita, Mubit)

Deep course (for professional engineers)

Target is RaQ550 that is new model of Cobalt and it should be a main stream product of Cobalt. The GUI and internal structure of RaQ 550 is completely different from previous model RaQ3/4. It has Sausalito architechture that is the same core technology of Qube3 but RaQ550 has multi-domain support too.

Sausalito abstract. (Mr. Shibuya, Alpha)
How to backup RaQ 550 by CMU (Mr. Nishida, Cobalt)
Introducing Sun LX50 (Technical Overview) (Mr. Nishida, Cobalt)
Thanks for your cooperation!
Internet connectivity : KARUIZAWA Internet at Nagano city.
Device support : Cobalt Japan
Device suppprt : NISSHO Electronics Inc.
Device support : Mr. Shibuya of Alpha
---
Enjoy photos of us.
(Title picture was taken by Mr. Yamamoto of Appleple Inc. Thanks!)











---
This page is administrated by Cobalt Users Group. (usersgroup@cobaltqube.org) All rights are reserved.