Visit to Cobalt in 2000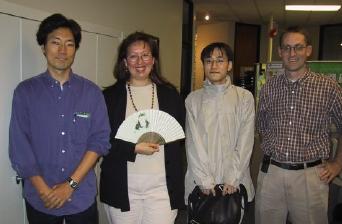 November 2000, Yasuda and Matsuura of Cobalt Users Group had been visited to US Cobalt Networks Inc. then met Desa, Richard, Vivek, Glenn and some. It was just Qube3 has released and we can met many new guys. They were also developing new products. Just wait for unveil it!
---
The entrance of Cobalt Networks.
Welcome to Cobalt!

The entrance of the 2nd building of Cobalt.

The server room of Cobalt.com. The odd eyes Qube was still there.
Guys of Cobalt.
Glenn Henriquez and Jim Britton. Hardware engineer.

Stephen DeWitt (CEO). in front of his new Jaguar.

Vivek Mehra (Chief technical officer and Co-founder) in front of Qube3.
Fun stuff.
See the number plate of the blue beatle. Who's?

Borg Qube.

The bell of Cobalt. Don't break it, Pat!

The RaQ but smashed under by UPS truck.

The same time, ISPCON was held in San Jose. Cobalt exhibited a booth.

VerociRaptor add in magazine. It is the firewall appliance based on RaQ.
---
When Yasuda arrived US, he got a severe cold theforefore he did not move enough. So unfortunately... But Cobalt people were so kindfull for us, especially Patrick Kelly. Thanks a lot.

We have got many Cobalt goods. Gordon also gave Qube cases to us. He said "Oh, this one is collector's item..". It is the common sence of us.

Users Group got a new Qube3 from Vivek later. It was used for writting an article for "Software Design", it is one of major Japanese computer magazine. Thank you very much for your support!
---
This page is administrated by Cobalt Users Group. (usersgroup@cobaltqube.org) All rights are reserved.