Visiting to Linux Magazine Editorial Room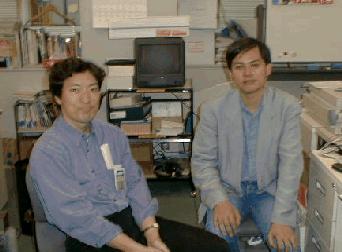 17 April 1999, Cobalt Users Group (Yasuda & Matsuura) Visited to ASCII Linux Magazine Editorial room.
---
We discussed with Mr. Kinoshita who is a copy editor of Linux Magazine of ASCII press. ASCII press is one of the largest and long standing publisher of the computer field.
It was very nice time for us because we exchanged so many opinions related Cobalt/Linux. Thanks for the kindness of Kinoshita-san.

The scene of the around of ASCII/Linux Magazine editorial room.
---

The ASCII company building.

The entrance of the building. We received a tag from security guard but the tag number is normally decimal. (ASCII use the binary for their magazine numbering.)

An object near by the elevator entrance.
---
This page is administrated by Cobalt Users Group. (usersgroup@cobaltqube.org) All rights are reserved.