Startup Story of Cobalt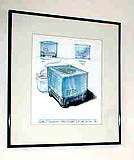 Cobalt was stated up in 1996 by three men, Mark Orr, Mark Wu, and Vivek Mehra.
There is a very first design sketch on the wall of Vivek's office. In the picture, there is a date written, 31st of March, 1997. About one year passed when the first product, Qube 2700 was produced. Here I'd like to talk about how they start the company because I want you to know the company and be found of not only the products but also the company itself.

The series of column is written by Yasuda based on the information through the other member of users group, my friends, much from interview with Vivek, and so on. I'd like to thank Vivek and all the others.

Feb, 2000. Yutaka Yasuda, Cobalt Users Group.
(usersgroup@cobaltqube.org)
---
The born of Qube design
The design of Qube can be the symbol of Cobalt. Firstly, let me mention how the design was worked out.

Qube 2700 WG, the first product by Cobalt, was presented in the DEMO in March 1998. There is no doubt that everyone were surprised an attracted with the box design. It was only 20cm squared and the translucent cover of cobalt blue with the green LED in front.
It shocked those who were used to the unrefined computers. Anybody would remember the name, Qube, easily. It was two months later that iMac may public its new design and translucent shell was presented in May 6th ,1998 ( sold in August.)

Two designers helped design of Qube.

Bill Scott handled the first shell structure design of Qube. He is a designer in Palo Alto, a lecturer of design at Stanford University, and also runs a design company, "Form and Image". The digital image that he first suggested was made by Alias (Graphic Software) in SGI at the end of January, 1997.
John Tang refined this image for manufacturing hardware. Bill hundled the design and artistic side. John manufacutured the hardware, mechanical engineer side. John Tang worked for a design company "THINK OUTSIDE", at the time in December, 1999, and made a collapsible keyboard, STOWAWAY, for Palm Pilot.

I heard the CEO, Stephen DeWitt, said "At first, we decided on the color because we wanted our company to offer something cool," at the party for founding the corporation in Japan in 1998. Mark Orr hit upon the cobalt color. The green color of LED was Bill's idea. There was a working Qube 2700 with odd eyes, the one side is blue LED and the other side is green in the machine room at Cobalt Co. (November, 1999) They showed this machine to the contributors and they decided on green. Many staff said that it took a very long time to decide. It was the hardest decision they had to make it in the whole development. ( This is just a joke illustrating the speed of Cobalt's develotment.)
Vivek came up with the cube shape and thought that the Cobalt cube sounded good and Mark changed it from a C to a Q because it sounded and looked better.



The first product of Cobalt is Qube 2700. It is easy to imagine that a prototype existed with a name like Qube 1100 before because of its high level of development, but that is not so. The figure, 27, comes from the atomic number of cobalt. The next product was called Qube 2800 before being sold, but it was eventually called Qube2, Leaving the number 2800 to designate the type number of the system.
---
side story of users group

"Coba-Q" is often heard in Japan. People from Pineapple Company (members of Users Group) begain to say it, and it has become common not only among users, but also in resellers. The expression was immediately popular and quickly spread from the user's group to everyone in the company. Of course RaQ is called "Raqqu".
Vivek seemed happy when I told him so. Vivek said with a smile, "I see, I see."
---
Before Starting Up
Mark Wu, Mark Orr, and Vivek Mehra were working in the Information Appliance at Apple before they started up Cobalt.

Vivek left SGI to work in the Newton group. He was a lead engineer of Newton in the Business Development section at Apple. He had finished the developing the next generation of Newton Products, but Apple abandoned the Newton Technology just before those products were ready for shipment. For that reason they never came onto the market. When I said to him "Too bad." he sounded disappointed, "Yeah."
Vivek said, however, the product itself was very interesting and he enjoyed it a lot.

He became the hardware engineering manager at Pippin after he left the Newton team.
He commanded fifteen people in the team, and planned not only all of the sections, but also ASIC. His team was working on industrial mechanical design at every level using a dense relationship with Bandai. That is why he often visited JAPAN, Tokyo and especially Kyoto to meet the Bandai team.



---
coffee break

By the way, I am the one who bought the first Newton and it was totally a coincidence that I had the chance to meet the developer of my favorite Newton. There was so many new challenges in Newton. Everything - the Newton script, resource soup, repository, etc - was new. The project was filled with challenges such as 3.5 inch FD or SCSI which Mac had tried, but failed to develop. I love a challenge, that is why I love Newton Technology and Newton Architecture, and bought a Newton. He kept saying "Good! Good!" as I explained it.

Apple gave up on Cyberdoc and Opendoc technologies, too. They have not been successful on new challenges. I told him that I felt sorry that a compound document, such as New Wave of HP, ended up to a failure many times even though they spent years and years on it. It was abandoned after all.
"Yes, it's disappointing, but you know, sometimes that is what happens, sometimes that is exactly what happens."

He's been engaged many product developments, including formerly working at Apple. He, a product developer, said that these products should be "passionate" ones.
Yes, that is what people want.
---
The Pippin Group, a part of Information Appliance department is where Vivek met Mark Wu and Mark Orr.

They got together and decided,
"We have worked long enough at a large company and we want to do something on our own."
Vivek left Apple in November 1996 then they started Cobalt.

The starting name was "Cobalt Microserver Inc". but was changed into "Cobalt Network Inc.". The domain name was cobaltmicro.com. at the beginning but this was also changed into cobaltnet.com and then into cobalt.com.

After the start they spent lots of time on thinking about what kind of project they would start. They spent nearly 2 months, from November 1996 to mid of January 1997, on thinking different ideas. They examined all sorts of ideas they could think of and started a business plan for a Cobalt. After completing their business plan in February, the founding team suggested they should go to different venture capital companies in Silicon Valley.


The date, March 30th. 1997 is written in the design sketch of the first Qube on the wall of Vivek's office. In May, the first clay model was completed.
And since April Mark Wu, Mark Orr, and Vivek went to different venture capital companies. Their plan was so excellent that they succeeded in getting seed money, which led them to start a Cobalt.
They started their company using this a few hundred thousand dollars, while they were waiting for another capital from a venture capital company. As a next step. they wanted to hire more people. Till around that time, about six months, they themselves didn't take any money while paying the engineers. After getting capital from another venture capital, they could finally get their own money.
In September 1997, they visited Japan to show the ADAMNET staffs the proto Qube.
Mr. Orr still keeps all sorts of proto type and clay models including this in his office.
---
Side story of early developing

I have seen some of these prototypes at the office of Cobalt Networks Inc. with engineers. They proudly explained each of them.

One of them had 3 slot, two CPU cards and PCI expansion card inside. Linux has already completed multi CPU. Suitable layout to build the tough server makes mid speed CPU construct SMP structure. But multi CPU of this size is unprecedented. If being realized, it must have been a sensation.

Another proto types was almost same layout as release version but with only 1 serial port, 10/100Mbps NIC, and SCSI interface. Also it was planned to include 3cm squared card on pin connector on CPU board and another serial port.
These were left out to cut down the cost under $1000. So the products, Qube 2700, became the simple style with 10Mbps as an interface.
Serial port was also removed but the pattern of connecter and chip sets are remained on the logic board of Qube 2700. A pin connecter for expansion serial card is also soldered.

Most of those function are adopted in Qube 2. I was impressed to see Qube 2 because it has so many functions. But it was not so difficult for them or rather they have already made high level one initialy and they just needed to reduce to lower the cost. We can see how high their developing skill is.
---
At the Linux Conference Tokyo in Dec. 1999, Vivek talkd about some of important decisions made around this period.
They chose Linux OS for its stability, scalability, performance, and reliability. There was no choice but choose Linux because only it worked in high speed in spite of small system.

They used MIPS because of its performance and low power consumption. At that time, in same performance, Intel products produced 15W heat. 2W for MIPS.
Heatless in a small box lead to trouble free products. "The consuming electricity of low end Qube products was only 20W in total, which means it doesn't need a fan. But user may think it is not real without fan, so we attached fan", he said with smiling.

They spent 4 months on porting Linux system to MIPS CPU. It took two months to boot from ROM successfully, which was the most difficult part because no developing resource existed. Until system boots from the disk, even the Kernel was stored in ROM.


At that time, David Miller was one of the engineers engaged in the kernel porting. He was famous for porting Linux to SPARC. It is the one of reason why Cobalt MIPS kernel was very stable. He fixed the bug of memory management of kernel. Spending about 5 months on the work they made the compiler, liblary and debugger very stable.
All of these efforts had made the later development operation smooth.
(Both SPARC Linux and Cobalt system are based on Red Hat and later he moved to RedHat Inc.)
After all of these efforts, the first Qube was on line in March 12 1998. Coincidentally, it was Vivek's birthdays.
"It was my birthday, so that was very good birthday present. March 12 1998, I was having dinner with my wife when I got a call that product was shipped. Very good."
"The memorial day."
"Yes, absolutely."

Then their product rolled out to the world.

---
Story of our users group. Where we were started.
Mr. Hanayama of NTT lease Inc., invested on Cobalt concerned to series B, introduced Cobalt to Mr. Suzuki who is the man of the "Platform". NTT lease Inc. also invested on Platform. On the Web page of this company there always are the advertisements of interesting digital products. Advanced user always check the page to get the newest information.
In May of 1998, the really small ads was seen on the web page and that was when we started the users group.

My friend was checking the page as usual and happened to find the ads of Qube 2700. Soon he e-mailed me the information of the URL and I just liked it. Naturally I told my friends about the products and this amazing blue box, Qube was to be known among the engineers who likes the newest. It looks like chain letter.

After couple of days I went to see one of them, Mr. Nakauchi, at Pineapple company and we were talking about Qube. At that time, we only knew the shape, color, and the fact that it is the server of Linux Box.
Then Mr. Maruo happened to come and he was also interested in Qube very much. He liked it at the first look and after checking some Web pages of Cobalt, he just clicked the order button. He liked it at the first look after checking some Web pages of Cobalt. After 5 minits later, he could not regist temptation and just clicked the order button.

After two weeks passed and we had the products in front of us being amazed. There was no such a small size product before Qube.
Before turning on, we opened it as usual then we checked the inside and ensured that it was NOT a toy. Then we put back the cover and turned on. The first impression of the user interface was just wonderful.

Every June Networld+Interop is held in Japan. Mr, Maruo found out Qube would be exhibited in the fair by contacting with Cobalt. He also found out Desa from Cobalt would be in Japan during the exhibition, so we organized to meet her in Tokyo.
Then we met her and discussed much topics. The direct start of starting our users group as below.

U.G. : We all love the products of Cobalt. We want to start the fan club for it.
Desa : Done! If you are really making one, we will present you a Qube.
U.G. : (1 second...) Let's do it, so Today is the first day of our users group.

In this way June 4th in 1998 became the memorial first day of us.

Maruo, Tsutsumi, Nakauchi, Matsuura and me are the startup member of users group. Right after that we obtained "cobatqube.org" and stated up a Web and made a mailing list. The number of the member increased drastically.
After couple of month later, Desa sent Qube 2700 with autographs of engineers. Mr. Tsutsumi's SPARC Linux box, temporary server for cobaltqube.org was exchanged to it and working till now. This web site is browsed from all over the world and we keep receiving the mail from these who has seen the Web page.
We already have over 900 subscribers of Japanese mailing list on February 2000.
---
coffee break

When we first met Desa, one of us requested, "Cobalt blue is a nice color, but we'd like to see Qube in various colors." Desa was saying. "Cobalt blue is the primary color of Cobalt, so we won't change it."
Then when users group started up a web, Mr. Matsuura made the image pictures of Qube in 5 different colors and uploaded. It gained popularity.
Later one of the members visited Desa's office finding Qube each in different colors, the hardcopy from the web page. So she likes the idea!!

This was happen in 10th of July in 1998, which is earlier than various colored iMac was announced. Also the translucent design of Qube 2700 was announced 2 month earlier than that of original iMac (6th of May in 1998).
---