Qube shipment 2nd anniversary party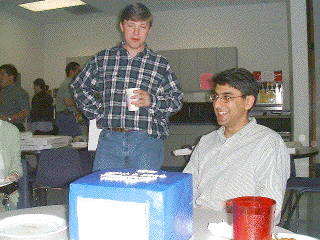 12 March, 1998 was the day of the first shipment of the first product, Qube2700. And it was also the birhday of Vivek. We hosted surprise pary for this memorial day at afternoon of 17 March. The 2nd anniversary.
The detail plan had been arranged by Katsumata of US NISSHO Ele. and Desa of Cobalt. Thanks a lot!
---
Party scene
Please enjoy the party scene by streaming.
Real
QuickTime (comming soon)
---
Special cake
We made a special Qube shape cake. When Katsumata-san carried a cake into the kitchen area of Cobalt office, many people were having pizza lunch.
Staffs were surprised and asked "what is it?".
Then Katsumata-san announced the party objectives and read a message from our Users Group. After that, Qube cake was cut by Stephen, Vivek and Desa. It was shared by so many staffs.
How nice!


See the top label of it.

So many people gathered for lunch. Stephen, Vivek and Desa cut the cake and served to them.
(In the last photo, from the left, Stephen, Vivek, Desa (sorry, back shot)
---
A present from Vivek
The party had been hosted at 17 March, it was a little bit later of the first shipment day. But 17 is the same day when three founders finished up their initial business plan in 1997. Well, it was the great milestone of the startup of Cobalt company. This party is not only for the 2nd anniversary of the first product shipment, but also the 3rd anniversary of the business plan too.
So then, Vivek presented a great thing to Users Group. It is a copy of the title page of their business plan with 3 founder's signature. Wow!

They spent several month for this business plan. Well, it was invaluable milestone. Thank you very much Vivek. Thank you.
* The early name of the company was "Cobalt Microserver Inc.".
---
This page is administrated by Cobalt Users Group. (usersgroup@cobaltqube.org) All rights are reserved.