The 5th Meeting in Osaka
We had the 5th Users Group meeting time in Nihonbashi of Osaka at 17 May 1999. Special guest was Mr. Richard from US. Cobaltnetworks inc.
---
It was monday evening but over 11 members had come. Thanks.
Schedule
Time

17 May 1999, Monday, from PM 6:30 till 7:30

Place

Pineapple Company Internet Solution Place
4-11-7 N.D bldg 3rd floor, Nihonbashi, Naniwa-ku, Osaka city
(1st, 2nd floor is PC land ZOO.
http://www.pineapple.co.jp/isp/map.html
We invited Mr. Richard from U.S. Cobalt Networks and Mr. Watanabe from Cobalt Japan KK. There were no special event but we discussed everything. Nice meeting.
But...
Almost things cannot announce here. ;-) So sorry!
Please guess secret topics by following pics. Have fun!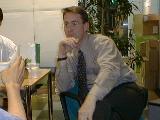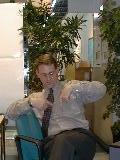 Superb Japanese talking, Mr. Richard.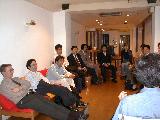 The scene of the meeting.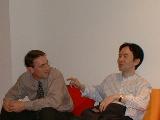 Mr. Richard (left) and Mr. Watanabe (right).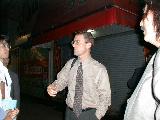 It was the time to say goodbye...
This page was made by Miss Katagiri. Thank you!
---
This page is administrated by Cobalt Users Group. (usersgroup@cobaltqube.org) All rights are reserved.