The 14th Meeting in Osaka, Japan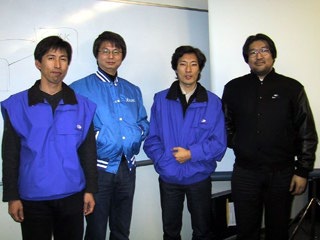 Team Cobalt Users Group with Cobalt Jackets.
We held the 14th meeting at the 31th January in Osaka. It was wonderful meeeting after a long absence in Kansai area.
This time, Sun support team staffs joined with us and they told the detail of new support program. It is very aggressive and reasonable program therefore it should be accepted by users and become popular soon.
And Yasuda reported about the last visiting to Cobalt office in US. How Cobalt changes after Sun? or not change? How about the new products? Of course he distributed some giveaways that had been presented by Cobalt company.
---

Cobalt Users Group Meeting 14th in Osaka.
        http://cobaltqube.org/meeting14/index.html
Host:
       Cobalt Users Group (usersgroup@cobaltqube.org)
Time:
       31 Jan 2002 (Thu) 18:00 - 20:00
Place:
       Sun Microsystems Osaka office 
       http://www.sun.co.jp/aboutsun/map/map_oosaka.html
Admission fee:
       Free

Program:

"New Cobalt support program by Sun microsystems"
       by Watanabe, Takayama and Fukada of Sun Cobalt support team.

"US Cobalt visiting report" 
       by Yasuda, Cobalt Users Group.

---
Enjoy our photos;

Mr. Watanabe, Mr. Takayama and Mr. Fukada of Sun Support team.
Since the last year, Sun support service program of Japan is very popular for users. And from April 2002, Sun will change the program of support service. Actually, current (Jan. 2002) service is free because it is experimental and starting up phase. Then Sun unveiled the new standard by pay per incident accounting. This session had been presented by core members of this new service plan and they explained the plan, structure, price and more.
Yasuda presented the last time visiting to US Cobalt.
Jan. 2002, Yasuda had visited to Cobalt again. It was the third time visiting. He got many photos and did a lot of discussions about interesting issues. How about the new product? How changes after Sun buying? Of course he took many giveaways from Cobalt and it was distributed to lucky guys of users group by lottery!
The scene of discussion and lottery. SKYY Vodka.
---
This page is administrated by Cobalt Users Group. (usersgroup@cobaltqube.org) All rights are reserved.