The 1st Meeting in Tokyo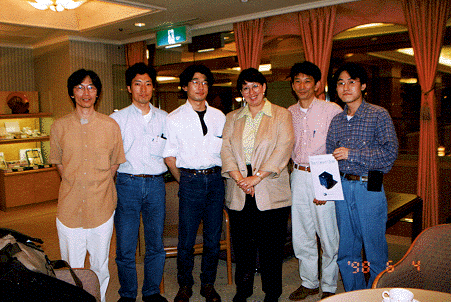 4 June 1998 At Tokyo Royal Park hotel. We had interview session with Desa Zraick (International Sales Manager, Cobalt Networks, Inc.)
---
Members at the time. (at the photo, from let to right)
Hiroyuki Tsutsumi (hiro@cobaltqube.org)
Yutaka Yasuda (yasuda@cobaltqube.org)
Hirokazu Nakauchi (oyakata@cobaltqube.org)
Desa Zraick (desa@cobaltnet.com)
Shinzo Maruo (maruo@pineapple.co.jp)
Masakazu Matsuura (matsuura@cobaltqube.org)
We discussed much about the Cobalt products. So happy meeting. And then, this would be the first and memorial meeting of our users group.
Followings are the digest of interview.
Why MIPS CPU?

Cobalt chose the MIPS processor for its high price performance value.
We did not want to be compared to standard client computer clock speeds.

Now, David Miller and the team are writing drivers for many expansion cards.
Qube 2800 will release at August. Japanese edition, maybe September.
Firewall, SSL (Secure Socket Layer) and etc. in the plan.
The rackmount version will be released later this summer. The name is Cobalt RaQ (!)
You can place 16 Qubes in a network rack, but if RaQ, 32 or more machines are possible in a standard network rack.
we are currently looking to partner with local Japanese software developers for groupware and other applications that may be integrated into the Qube.
And we also propose some our ideas.
We want so many different colors Qube. And more, please make different color of pilot lamp!
It is so difficult for end user to overwrite the default top web page. Improvement needs.
It is good selection of MIPS for security reason.
(There are so many attack tool for Linux/x86 but for Linux/MIPS is rare.)
If one more hard disk drive in the box, can we make a full backup and restore easy for against disk crash.
She answered for us that some idea will investigate.

When we let her know we are all the fan of Cobalt and we plan to make a users group, she is delighted and said "let me know when you made it, I will send one Qube for you". She also said we are approved as official users group.
Thanks a lot!

Therefore, we are taking off the plan of users group.
---
P.S.

Maruo-san of Internet Security explained about his firewall crack contest with much prize. And he told to her that please try it, then she said she will tell it to David (Linux Guru, kernel writer of Cobalt).
What will happen?
---
This page is administrated by Cobalt Users Group. (usersgroup@cobaltqube.org) All rights are reserved.