Kansai Opensource + Freeware 2003 exhibition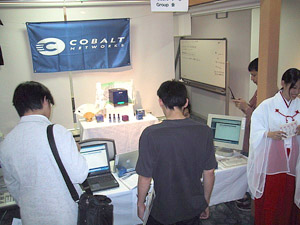 This booth is shrine type. We are blessing of god of Open Source because now Qube3 is opened.
(Japanese Shinto is based on animizm, it is one of ancient polytheism.)
The 31th of October and the 1st of November 2003, We have exhibited to Kansai Opensource + Freeware 2003 exhibition and pushed Open Source based Qube3 software - Project Blue Quartz - to all attendies of the show.
---
Please enjoy photos and feel the impact of our promotion.
Blue Quartz demonstration by MicroPC EES-3610 of Hightech Inc. of Japan.
It is fan-less system with 2.5inch HD. Yes, too perfect for Open Source Qube3 system. Looks like special made hardware but it is not, just a generic PC/AT compatible architechture.
| | | |
| --- | --- | --- |
| | | With Dr. Wietse Venema who is a creator of Postfix software. He is a keynote speaker of this show. |
---
This page is administrated by Cobalt Users Group. (usersgroup@cobaltqube.org) All rights are reserved.