Cobalt RaQ Block
A plastic block that was made when Cobalt had been aquired by Sun.
---
It was presented from Goldman, Sachs & Co. when Cobalt was aquired Dec. 2000. I feel something not good impression from this because the face of RaQ is not cool....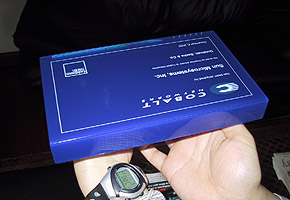 A back shot. There is no pattern on the rear. Whmm.....
Photo cooperation: Vivek Mehra, thanks!
Jan 2003.
---
This page is administrated by Cobalt Users Group. (usersgroup@cobaltqube.org) All rights are reserved.