Qube 3 Cart
The cart it can hold a Qube3, note PC and some demonstration kit.
---
It has wheels and the stretchable handle. A large bag.
It has a partition wall and a innter bag that fit well with a Qube3.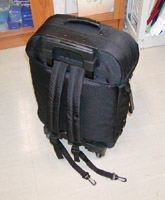 The shoulder belts are also available.
Jan 2003.
---
This page is administrated by Cobalt Users Group. (usersgroup@cobaltqube.org) All rights are reserved.