Cobalt Certification Program Mousepad
The mousepad maybe for the member or customers of Cobalt certification Program.
---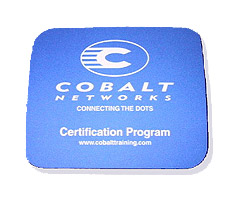 "CONNECTING THE DOTS" was the catch phrase of Cobalt at that time.
I guess they had some program course of certification something. Now, Jan. 2003, there is not available the website www.cobalttraining.com.
Jan 2003.
---
This page is administrated by Cobalt Users Group. (usersgroup@cobaltqube.org) All rights are reserved.