MM QUBE brothers
Mascotts for MM QUBE and MM QUBE2. That is OEM products of Qube2/Qube3 by NTT DoCoMo of Japan.
Looks so cute.
---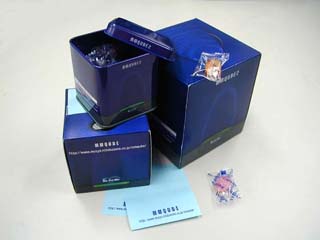 ---
The back is also good.
The biggest one is tissue box of MM QUBE2. I cannot remove the top hole, gracious!

The middle one is the PostIt box of MM QUBE.
The small one is the candy box of MM QUBE2.
"Sakuma" is famous and old established candy company in Japan.
NTT DoCoMo has nice taste.

MM QUBE logo also on the each package.

Sep. 2001
---
This page is administrated by Cobalt Users Group. (usersgroup@cobaltqube.org) All rights are reserved.