Cobalt Green Cup
The green plastic cup in the period of Cobalt Networks.
---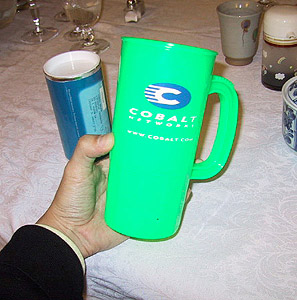 It is so simple and easy giveaways. Good. I saw this cup sometime on the desktop in the office of Cobalt.
There is less green things of the giveaways of Cobalt, it will take attention.
Photo cooperation: Yumiko-san, thanks.
Jan 2003.
---
This page is administrated by Cobalt Users Group. (usersgroup@cobaltqube.org) All rights are reserved.