Cobalt Exhibision in NICOGRAPH '98
25-27 Nov. 1998, NICOGRAPH event was exhibited in Chiba.
ADAMNET made a booth for Cobalt.
---
NICOGRAPH is the most big event in Japan that specialized Computer Graphics. Ms. Urakami of ADAMNET co. reported it. She is also our Users Group voluntary staff.
---
Urakami's report .....
Some Some Some Some.... Something.
---
And photos of the day.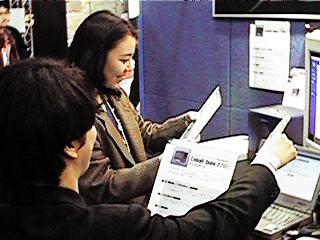 A lady who explain about the Cobalt is Ms. Urakami.
---
This page is administrated by Cobalt Users Group. (usersgroup@cobaltqube.org) All rights are reserved.