Cobalt Users Conference 2003/Summer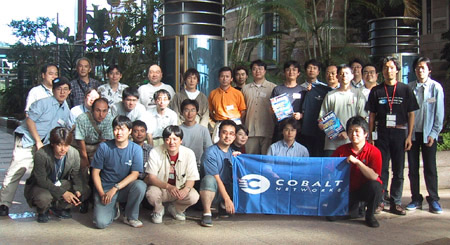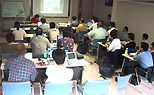 From 10th to 12th of September 2003, we have hosted Cobalt Users Conference event in Nagoya city of Jpaan. It is the 3rd conference from 2001.
I want to say thank you for a lot of support and help of members of users group. We could end it with the great successfully closing.
---
From chief of organizer
It was 3rd times Cobalt Users Conference and we are happy and proud of it. This time, we chose Nagoya area for the location of this event and over 30 members gathered there. It was so massive hours but we had very high productive days. Thanks for all cooperation of all members who spend time there.
The program of this year was separated to two parts. The first part is for current Cobalt model users and the latter half focuses to Open Source project. Actually, Sun/Cobalt announced the end of life of Qube and 550. Under this situation, it is very important to discuss about Open Source Project.
It is geat pleasure for us that all programs had been origanized by voluntary members of our group. I appreciate for all guys who stood and talked in the session, who offered appliances and devices. And I appreciate for all participants again. Thank you very much.
Let us gather again, somewhere on the net, or somewhere on the planet.

September 2003
Yutaka Yasuda, Cobalt Users Group.
Concept
This conference is focusing on developers of application software specialized for Cobalt and support engineers of ISP who has Cobalt systems. They can make progress by themselves through our seminar programs, demonstrations and the face to face discussion of this conference.
Yes, it is hard to make much time for self-learning for busy engineer. And it is also hard to exchange an opinion with other companiy's guy. Therefore we, Cobalt Users Group choose Nagoya city and made 2 nights and 3 days course for this conference. Because Nagoya has pretty long distance from Tokyo and Osaka where is a center of their business. Any boss of them cannot say "Hey, we're in trouble, get back now".
Please get a lot of knowledge, experience and friends in this chance.
[ Full text (in Japanese) ]
Program
Keynote Speech (common for both of 2 courses)

Current model course

Open Source Qube course

Let us build the "Tigers" appliance. (Watanabe) [ PPT ] [ PDF ]
"Tigers" means the name of the baaseball team in Japan.
How to port Open Qube to PC White box (Shibuya) [ PDF ]
Making a package of Cobalt package for Qube3/550 (Hatayama)
Let us use CVS to get and hack the recent source. (Shibuya) [ PDF ]

[ Detail (in Japanese) ]
---
Enjoy our photographs.
---
This page is administrated by Cobalt Users Group. (usersgroup@cobaltqube.org) All rights are reserved.