Cobalt Users Conference 2001/Summer in Nagano, JAPAN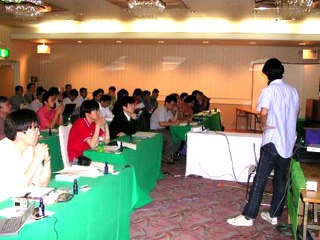 We hosted Users Conference in Komoro city, Nagano, JAPAN from 6th to 7th September, 2001.
It ended in successfully with cooperation of many people. Thanks!
---
Words from organizer
It was first conference of our users group. Totaly 45 guys gathered in Nagano and spent so deep and concentrate two days. It was my pleasure that I could feel the hot atmosphere from all audience. So fantasic time it was full of fun.
Thanks Gordon, welcome to far east from US. Thanks Cobalt Japan for your machines and much help. And thanks the other lectureres and all audiences.
That memorial two days were made by all of guys who had been there.


September 2001
Yutaka Yasuda, Cobalt Users Group
---
The prospectus (Full text ,sorry in Japanese)
This conference is for all developers and support engineers of ISPs. They will be able to make their skill up by not only for our program but their discussion each other with face by face. Usually, engineers cannot make their time enoughly to learn and discuss with other company's people. Therefore we choose Nagano for the place because this is isolated from their company. And whole one night also help their much discussion.
Programs (Full text ,sorry in Japanese)
Technical Seminars

Title presentation: Developing Your Success
Gordon Garb, Senior Manager, Platform Evangelism, Sun Cobalt
How to migrate from RaQ1,2,3 to RaQ 4,XTR by CMU tool.
by Nishida, SUN Cobalt
Backup and Restore by Veritas NetBackup
by Nishida, SUN Cobalt
PHP installation and management
by Shibuya, AlpHa FACTORY
Cobalt patch & backup point. nad NetVault demo
by Tokuue, Nissho electronics

Mini-Demo/Announcement

RealSecure abstract and demo
by Nihon System House
SonicWall configuration
by Shibuya, AlpHa FACTORY
Sybase pre-installed RaQ4
by ATC
Thanks for special cooperations
Internet connection: Karuizawa Intenret
Devices: Cobalt Japan
Devices: Ryuichiro Munechika
---
Photos
Enjoy our photos
The title plate is on the front of the hotel.

The reception of conference hall and the stage. We put Qube2700 at the entrance.

We served 24h Internet connection. (64Kbps, a little bit slow) 802.11b wireless access was also available.

The scence of the session. So excited!

The session of Gordon Garb. Q & A continued longer and longer.

Break time. But we cannot enough break time because they were heated up much.

Sometimes Gordon joined our session and made some comments. Thanks.

The banquet. It was fine and enough.

A lottery. So many giveaways were served.

Some guys talked each other till midnight. Arrengement staff also guessed this situation then we reserved the biggest room of this hotel. Exactly said, it was the "sweet room". AM 3 over, many guys discussed in sweet room. Is there anything wrong? ;-)

The second day's session. No one sleep. So tough!

Many guys helped withdraw our camp. Thank you guys!

The last session was Cobalt hosted SOBA noodle lunch. Eat or dead!

---
This page is administrated by Cobalt Users Group. (usersgroup@cobaltqube.org) All rights are reserved.